The annual Daybreak Press Literary Conference
brings together muslim women across all genres
From bloggers and journalists to novelists and poets – this conference inspires Muslim women writers by offering workshops, interactive lectures, entertainment, and networking, and by celebrating the winners of the Daybreak Press book awards. 
daybreakpress@rabata.org
The annual Daybreak Press Literary Conference
recognizes the published work of muslim women
The Daybreak Press Literary Conference began in 2015 with Dr. Tamara Gray and Nijiyah Maxfield, founders of Daybreak Press Publishing Company, in an effort to raise Muslim women's voices in the literary landscape.
Now, Muslim women writers can be celebrated and highlighted for authentic writing. 
The Daybreak Book Awards are presented to the winners at this event. Books compete in various categories including Children's Picture Books, Illustrations, Book Series, Fantasy, Islamic Fiction, Graphic Novels, Non-Fiction, etc.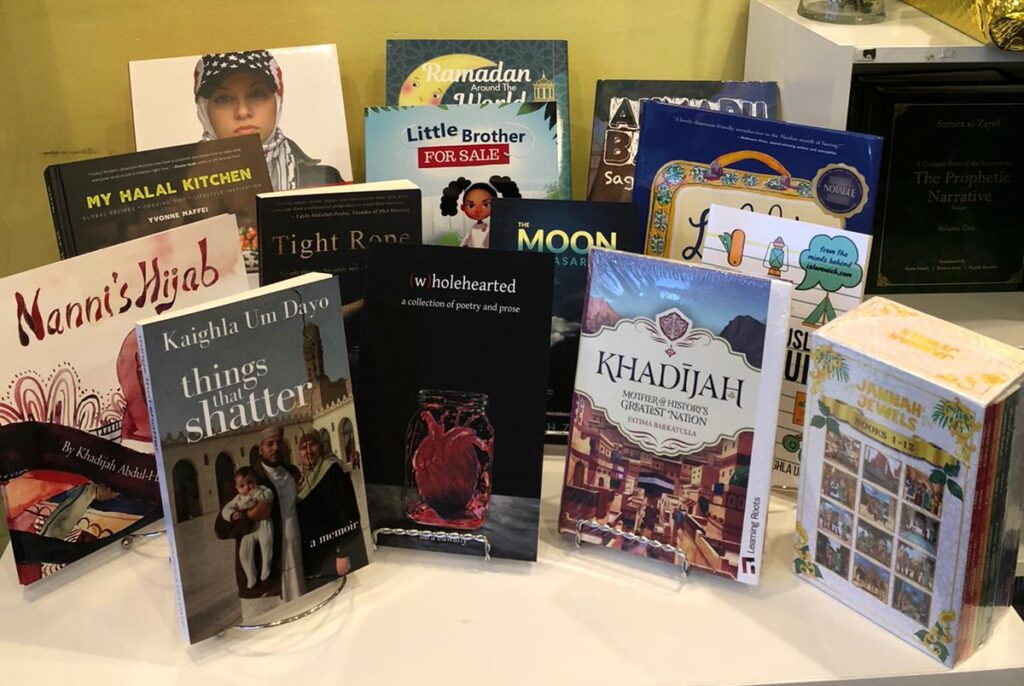 The panelists and speakers include authors of fiction and nonfiction works, academic scholars, journalists, poets/spoken word artists, and bloggers. The Daybreak Press Literary Conference is an effort to regain authority over our own stories as Muslim women in hopes of breaking stereotypes and becoming a leading standard for Muslim women who are involved in literature – as authors and publishers.
This year, speakers have the option to present either in-person or online.
Past speaker sessions included:
The Legacy of Women's Scholarship & Spirituality with Dr. Tamara Gray & Anse Shehnaz Karim
Anchoring KidLit with Ambareen Syed & Rahma Mohammed
Traditions of Artistic Expression with Timaj Garad & Michelle Marie
Navigating Nonfiction Storytelling & Narratives with Rukayat Yakub & Dr. Saadia Mian
Overcoming Challenges in Publishing: Embracing the Inner Critic with Kaltun Karani, Najiyah Maxfiled & Tayyaba Syed
Muslim Women & Literary Legitimacy: Literary Cannonballs with Nusaiba Imady, Amina Ghouse & Asma Nizami
Tackling Taboos: Elephant on the Page with Khadijah Rashid, Sara Bawany & Afshan Malik
Spiritual Hearts & Academic Minds with Dr. Tamara Gray
Lit Sisterhood with Umm Juwayriyah & Juwayriyah Ayed
Reclaiming our Space: Journeys through Race, Class and Gender in Islam with Dr. Jamillah Karim
Breaking Barriers in Memoirs & Storytelling with Asmaa Hussein
Facets of Me: Entwining Cultural Heritage, National Pride, and the Muslim Identity with Nahela Morales
The Value of Your Voice: A Spotlight for Muslim Women Authors and Entrepreneurs with Jenny Triplett
Your Treasure Chest: Stories Unfolding Through Journalism with Tayyaba Syed
In-person portion will be held at the rabata cultural center
"I didn't think I would benefit as much as I did from the conference because I am not an author or serious writer. I was wrong! My voice matters, period."
"The speakers took me into a whole different realm of understanding on the impact of our authentic narratives as Muslim women. [The panels] encouraged me to be a better me!"
"Created to provide a platform to celebrate, promote, and encourage Muslim women writers, MWLC is a fantastic initiative for the ever-growing niche of Muslim women with literary ambitions."
"Daybreak Press lets women recognise their identities by taking a firm hold of their own narrative."
"Admittedly, this conference with brilliant, hard-working Muslim women did more than motivate me to write; it increased my interest in reading Islamic stories and writing for purpose, rather than achievement."
Speakers List Conferences in 2015 – 2020
Keynotes: Dr. Tamara Gray, Executive Director of Rabata & Najiyah Maxfield, Editorial Director of Daybreak Press Publishing