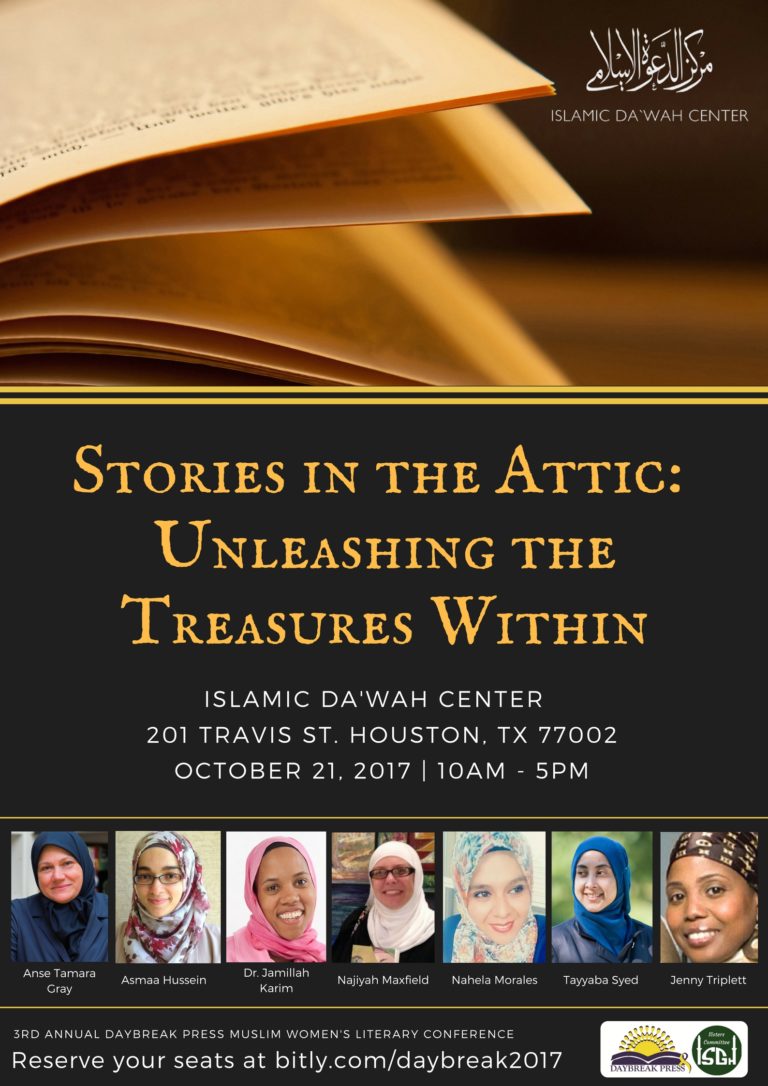 In the effort to spread awareness and promote the works of Muslim women in literature, the Islamic Dawah Center's Library of Islamic Knowledge presents the 3rd Annual Daybreak Press Muslim Women's Literary Conference on October 21st.
The Islamic Da'wah Center in Houston, TX has served the community for years, promoting academic enrichment and religious knowledge. Their loyalty to explore the magnificent history and culture of Islam has grown to display a four story Islamic center that is rich with authenticity and application of Islamic values.
Speakers List:
Anse Tamara Gray, doctoral candidate at the University of St. Thomas in St. Paul, MN – Scholar, founder of Rabata and author of Joy Jots.
Asmaa Hussein, LSW – Founder of Ruqaya's Bookshelf, children's book writer and author of A Temporary Gift: Reflections on Love, Loss and Healing
Jamillah Karim, PhD – Professor, award-winning academic and author of Women of the Nation: Between Black Protest and Sunni Islam & American Muslim Women: Negotiating Race, Class, and Gender within the Ummah
Najiyah Maxfield – Executive Director of Daybreak Press, award-winning writer and author of Sophia's Journal
Nahela Morales – Recently joined the ICNA-Dallas team, formally Director of Operations at IslamInSpanish, daa'iyaand Mexican Muslim American blogger aka Umm Andrew
Tayyaba Syed – Journalist, award-winning author of The Blessed Banana Tree and co-author of Jannah Jewels series
Jenny Triplett – Best-selling author of Suriving Marriage in the 21st Century, television personality seen on TLC, CNN, Dr. Phil and activist in the effort to thwart mass incarceration with education and mentorship
Attendees will be able to meet the speakers, purchase books and have an opportunity to have their books signed by the authors, inshaAllah.
Entertainment showcases phenomenal local sisters and their talent in spoken word, poetry and nasheed!
Lunch & refreshments included with registration fee.
We encourage sisters to carpool. Complimentary valet parking is available by the Islamic Da'wah Center.
Children ages 8+ may attend the conference if accompanied by a parent, relative, or group advisor.
See you on October 21st!