Loving & Learning: Remembrance of the Beloved (s)
October 30, 2021 @ 4:30 am

-

6:30 pm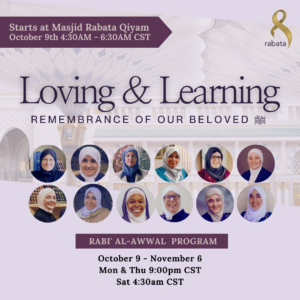 Discover the Prophet ﷺ in a way you never imagined. Join us as we soak in the Shama'il, enjoy uplifting nasheed, and make salawat to draw closer to our Beloved ﷺ. 
✨Join us for presentations on the beautiful qualities of the Prophet ﷺ Monday and Thursday 9pm CST✨
1. Zoom links to the online Live presentations will be emailed to Masjid Rabata registrants.
2. Download Rabata Ibadah app to participate in the Global Salawat Project.
3. Download the Loving & Learning workbook
All the links are on RABATA.org/MasjidRabata
✨All FREE resources✨