Join us at Masjid Rabata as we gather for special programming focused on spiritual growth and sisterhood. Masjid Rabata features activities based the Islamic months that promote gathering together to reflect on their importance.
We offer weekly qiyams year-round to nurture nightly worship habits. These programs include talks, personal worship time, dhikr, and nasheed. We also offer Quran programs for every recitation speed.
If you do not receive an email with Zoom links by 7PM CST Fridays, please email circlesoflight@rabata.org.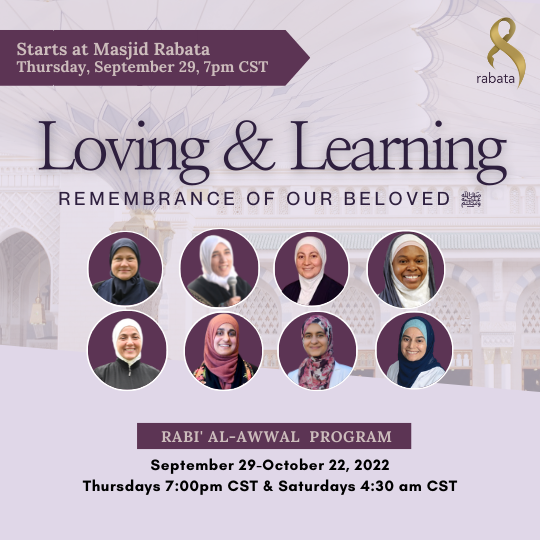 Discover the Prophet ﷺ in a way you never imaged. Women will learn from the Shama'il, listen to beautiful poetry, enjoy nasheed and be enriched by presentations about the qualities of the Beloved ﷺ in this blessed month of Rabi' Al-Awwal. 
Join today's female scholars at Masjid Rabata! This month-long learning celebration will be September 29th to October 22nd on Thursdays at 7pm CST and Saturdays 4:30am CST during Masjid Rabata Qiyam. 
Zoom links will be automatically emailed to all Masjid Rabata registrants. Register above if you haven't already.
All events are WOMEN ONLY and at no cost.
Participate in the Global Salawat Project in the

Rabata Ibadah App Starting September 29, 2022.
qiyam time changes to 4:30am CST
Starting October 1, 2022, Masjid Rabata Qiyam will be held 4:30 am CST to 6:30 am CST.
"Jazak Aallah everyone for today. This Qiyam just lights me up for the week. Subhan Allah." – R. S.

"Masha Allah this is the first time for me to rabata Masjid. Subanallah I was enveloped in an indescribable feeling baraka Allahou fikoum for all his efforts to maintain our iman. May Allah reward you and more for everything. good day under the protection of our creator." – N. L.

"Rabata is DUA manifestation by itself." – A. S.
"The lectures help to align me back to the straight path, when there are times I get drawn into the world." – K. A.
"I found Teachers who guide firmly and compassionately, companions who push me to strive to do my best and to do more. Rabata filled the void I felt for years, Rabata brought me back to my roots and helped me grow continuously insyaallah. Whatever was missing in my local community, Rabata provided it. Thank you to all the annisaat and the amazing team at Rabata. May Allah swt reward all of you immensely."
"Thank you to all the admins and Anses at Masjid Rabata for making this possible for everyone around the world… truly a blessing for which we all need to do sajda shukhr."
"Thanks to the Masjid Rabata, I read more Quran this year than I ever read in my life. I will be looking forward to next year with the Masjid in my life."
"This Ramadan and these 10 days have been such amazing and beautiful moments. I've never experienced ibadah like this. Truly Rabata elevates your inner level of ibadah and makes you understand how much we're truly capable of!"
"Just wanted to say thank you to all the admins who worked tirelessly behind the virtual mosque. I feel that it will be a Ramadan that we will remember many years from now, and this mosque will be one of the reasons. I know it's not easy with families and jobs, but it's impacted so many women and helped them feel closeness in a time of distance. Lots of love and duas for you all."
"I found your Qiyam and had the best Ramadan of my 24 years being Muslim. I can actually study my deen. "
"I can not express enough how grateful I am to Rabata. You made my Ramadan the most amazing and happiest because of the sincere heart felt love I feel here. I am sincerely exuberant about this because sisters who need the unity, they can find it here. I love it here."
"This has been the best Ramadan of my life. Tonight my mom prayed Shukr, Tawba, Tasabih and Hajja prayers as her Qiyam. Anse, you are reaching people beyond this masjid."
"I have been doing Rabata's virtual mosque/itikaf every night and it's amazing! It's all women and it's like we are together in the mosque. There are women who sing, recite poems about the Prophet pbuh, there's prayer time, dhikr time, Shaykha Tamara Gray is there. I've been benefitting enormously from this virtual mosque."