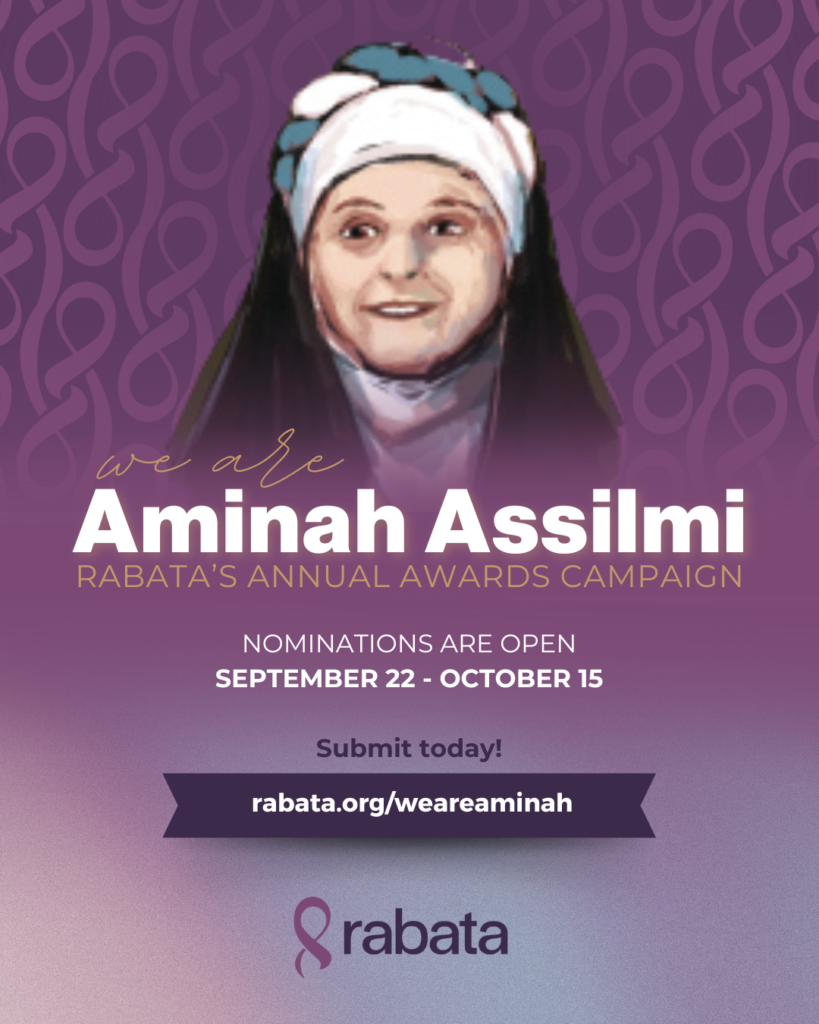 Every year, Rabata honors the legacy of a Muslim woman who has worked to create positive cultural change in our communities. This year, we are celebrating Aminah Assilmi (1945 – 2010).
Aminah Assilmi was a creative educator, community leader, positive cultural change agent, protector of women and children, and upholder of family ties, whose projects spanned the United States and Europe. She pioneered the Muslim American identity by successfully lobbying for the unprecedented United States Eid postage stamp, commemorating the Muslim holiday. Aminah Assilmi was someone who called others to Islam and elevated the Muslim woman. She was the embodiment of bringing your whole self to Islam, and this year Rabata commemorates her legacy with this award series.
We will recognize one nominee in each of five categories for his or her contributions to their community that demonstrate what it means to live like Aminah Assilmi today.
Nominations are open September 22 – October 15.
Nominees can be Muslim or non-Muslim men, women, and children. You may submit as many nominations as you like, but you will need to complete a separate form for each.
1. Creative Educator:
Aminah Assilimi was a devoted and creative educator who spread awareness of Islam in mainstream America by leading the campaign to introduce the first ever Eid Stamp to the United States Postal Service. Nominate someone you know who is a creative educator and carries forward this legacy!
2. Community Leader:
As a public speaker and journalist, Aminah Assilimi used her talents to connect with other Muslims, bring our Ummah closer together, and share information about Islam on mainstream platforms in a positive way. Do you know a community leader who is helping build healthy communities with positive energy? Nominate them!
3.  Positive Cultural Change Agent:
Aminah Assilmi stood bravely, lived courageously, and upheld her values proudly as she brought her whole self to Islam. She was someone who embodied the Quran and Sunnah as she engaged with her community and the people around her.  Nominate someone you know who is upholding their beliefs with confidence at work, school, and in their everyday life!
4. Protector of Women and Children:
Aminah Assilmi was committed to helping women and children in vulnerable situations. She worked with numerous international organizations to expose and prosecute war crimes committed during the Bosnian War. Do you know someone who goes the extra mile to ensure that women and children are safe, cared for, and able to live in a healthy way? Nominate them!
5. Upholder of Family Ties & Relationships:
When Aminah Assilmi converted to Islam, her family made her life very difficult. She worked to change child custody laws in Colorado so that she could maintain joint custody of her child despite following a different religion. By keeping her faith strong, she was able to change both her family's hearts and state custody laws. Nominate someone you know who works diligently to keep family ties and relationships!